If the season finale of Downton Abbey has left a hole in your heart, check out
Lark Rise to Candleford
!
image source
Lark Rise to Candleford
is based on semi-autobiographical novels written by Flora Thompson. The show follows Laura Timmins, a young teenager from a very small village called Lark Rise, as she moves to Candleford to work for her cousin the Postmistress in 1894. Similar to Downton Abbey, you get to watch families, friends, and co-workers from two different socioeconomic statuses interact and navigate the differences between them.
The series aired beginning in 2008 and it must have been shot in HD because the scenes are so beautiful. (Have you ever turned on an older BBC show and been completely turned off by the poor quality? You won't be disappointed with this show!) There are 4 seasons for a total of 40 episodes.
It took me a few episodes to sort all the characters out, so here's a run down in case you begin the series!
Lark Rise's main inhabitants:
image source
Laura's parents: Robert and Emma Timmins. Robert is played by (drumroll please!) Brendan Coyle, none other than Mr. Bates from Downton Abbey. If you like Mr. Bates, you will love Robert Timmins. He and Emma are SO in love and even though he has a bad temper sometimes, they always work their problems out. Emma is a wonderful neighbor to everyone in Lark Rise.
image source
Queenie and Twister Turrell: Queenie is the "matriarch" of Lark Rise. Everyone turns to her for advice and help - she always has a natural (or supernatural) remedy for anything that ails them. Twister is loveable but struggles with the drink and goes a little overboard in everything he does.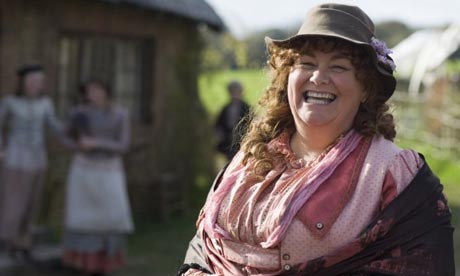 image source
The Arlesses: Caroline Arless is the liveliest resident of Lark Rise. She is jovial and full of life but struggles to raise her children while her husband is away at sea. Her oldest son is Alf, Laura's best friend.
Candleford features:
image source
Dorcas Lane, Postmistress. She is single and the ultimate independent woman. She inherited the post office and the forge from her father and has run them successfully on her own. She cares greatly for her neighbors and would do anything for them. She is sometimes sharp-tongued but always has other people's best interest at heart.
image source
Sir Timothy, the squire, owns all the land from Lark Rise to Candleford. He is Dorcas' former love and there is still a LOT of tension there. He's pretty dreamy even though he makes a lot of mistakes.
image source
The Pratt sisters, Ruby and Pearl, own a dress shop across the street from the post office. They are incredibly nosy and judgmental. They get a few redeeming moments throughout the series, but mostly they are the snarksters of Candleford.
image source
Thomas Brown works in the post office and he is a ridiculous caricature of a very self-righteous Christian. I never really understand what his deal is. He is hard on himself and everyone else, but ultimately does have a good heart.
If I name any more characters, I might give something away! SO, that's all for now... please let me know if you start watching it! It's available for streaming on Amazon Prime but is probably also available on DVD at your local library!
There's a great review here!